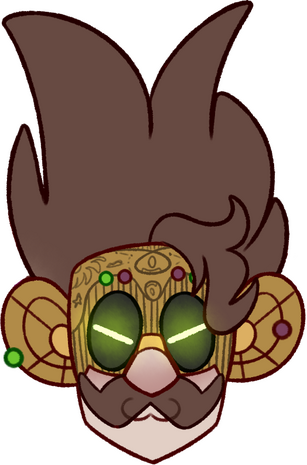 🐦 Twitter
🌐 Tumblr
🎢 OC Directory
🎪 Darkmoon's Finest
LIKES!
gnomes, the Darkmoon Faire, theme parks, roller coasters, urban decay, LARPing, costumery, animatronics, shipwrecks, worldbuilding, vintage toys, submechanophobia, Neopets, Half-Life, Portal, Lemon Demon, World of Warcraft, League of Legends lore, arcade cabinets ...
THINGS I DO
digital illustration, video production, puppet animation, roleplaying, LARPing, prop & costume fabrication, theater tech, cosplay
My name is Elliot, a Cuban-American transmasc artist from south Florida with a life-long love for high fantasy and American tourism culture. Currently employed in the wild, wild world of pop culture collectibles. I'm a jack of all trades that seeks to breathe life into my original characters through pieces of content focused on their shared narratives.

I run Darkmoon's Finest on Moon Guard and Wyrmrest Accord, a carnival-themed guild focused on The Darkmoon Faire and its lore potential. You may know me as Fizridge, Ziti, or Intamin on either server.
---
BYF I'm somewhat of a chatterbox and tend to post pretty flagrantly on Twitter, especially when talking to my mutuals or infodumping. I also have a snake I regularly talk about in untagged posts. I am also discovering my gender identity and I actively avoid gender critical discourse. I am a furry. If this bothers you please reconsider following me.
DNI Obvious criteria applies here. No transphobes, homophobes, racists, bootlickers, antisemites, white supremacists, fascists, pedophiles, etc. Black lives matter, no exceptions. My work is generally considered 13+. Anyone below that age makes me uncomfortable.

I've been a victim of targeted harassment at the behest of my ex-friend and I tend to block without warning if you associate with them. If someone asks you to block evade or otherwise contact me because they cannot for any reason please don't forward them my way.
---
DISCLAIMER I'm pretty sure I have some form of undiagnosed ADHD, depression, and other such mental discrepancies that my family never looked into due to my being DFAB.

This can reflect in my interactions with others, often in the form of perceived disinterest due to forgetting to return messages or hyperfocusing. I promise that this is NEVER INTENTIONAL and I encourage reaching out to me multiple times if you feel that I have ignored you.
Pronouns? He/They

Age? 23

Specs? XP-Pen 15.6 Pro w/ Paint Tool SAI, iPad 7 10" w/ Apple Pencil & Procreate. Adobe After Effects and Adobe Premiere for animation.

Are you taking commissions? Probably not. DM me or shoot me an email so we can talk details.

Can we roleplay? I love meeting new people. Just approach me in the wild or DM me with any plot hooks. I'll never turn my nose up at writing with others but I tend to get overwhelmed easily.

Is your guild recruiting? Usually! DM me with any concerns regarding interest in joining.

Can I have your Btag / Discord? I usually don't give this out without reason. Just DM me and we'll see where it goes.

Favorite coaster(s)? Dueling Dragons, Cheetah Hunt. B&M and Intamin for manufacturers.